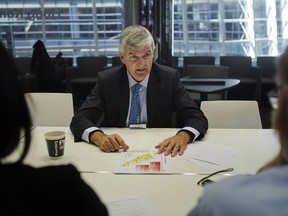 Canada has a compelling opportunity to simultaneously improve the global atmosphere, materially build our overall economy, and contribute to growing First Nations prosperity. It's a hat trick if we choose to get in the game, and that game is LNG. Canada should be a world leader in transporting its low emission natural gas via LNG to the countries in the world that need it. Our allies are calling out for it, and we have all the components required to allow our country to win this challenging yet rewarding game.
Natural gas is the most energy dense by mass of the entire fossil fuel group and generates the lowest emissions when ignited, it's at the top of the fossil fuel evolutionary ladder if you like. For the record, a molecule of methane has three times the embedded energy as a molecule of hydrogen. In general, from an energy sourcing prospective, we should be migrating towards denser, lower cost, lower emission energy sources. Natural gas most certainly releases carbon when burned, it's not perfect, but that's actually the case with all the current components of the world's energy stack. Whether it's renewables, nuclear or fossil fuels, each energy source has both positive and negative attributes, be it carbon emissions, cost challenges per unit of energy, or ultimate waste disposal.
The foundation of our modern civilization has been built upon abundant and inexpensive energy. The world's energy stack continues to 'transform' between sources in an effort to systematically improve efficiency, economics, and emission profile to provide energy for our planet's growing population. Part of that transformation is a rapidly growing 'transition' to natural gas envisaged for the next several decades. No matter which forecast or outlook you use, natural gas consumption is growing materially, to as much as 35 to 40 per cent of the entire energy stack within 10 years. So the world is most certainly not transitioning off natural gas, it's just the opposite.
Canada is currently the fourth-largest producer of natural gas in the world, and we are blessed with amongst the largest gas reserves on the planet. We have a well-established gas industry with an extensive natural gas processing and country-wide transportation infrastructure already built and in place. Another advantage is that we have relatively low-cost reserves to develop, the main gas resource plays aren't particularly deep, and they tend to drill and complete quickly and easily. Although the Western Canadian Sedimentary Basin has been producing for almost 100 years, our prime natural gas resource plays, the Alberta Deep Basin and the BC/AB Montney, are actually very early in producing life, and much earlier than their US counterparts to the south. The Montney, for example, has only produced 22 TCF of an estimated 645 TCF of ultimate recoverable gas reserve (current production from the Montney is approximately 5.7 TCF per year). We're in the top of the first inning and pitching to the first batter, to use a baseball analogy to depict the remaining Montney reserve life. A 4 bcf/day LNG project, the potential size of LNG Canada, is estimated to create up to 20,000 jobs and $9-12 billion in annual export income to the Canadian economy.
There is obviously a major economic win associated with the initial pipeline and liquefaction facility construction required for LNG projects. The additional carry-on economic win from resource development however is the requirement to continually provide supply to sustain LNG volumes for the 30-plus year life of these projects. A 4.0 bcf/day LNG export terminal will require approximately 1.5 bcf/day of new supply created every year to offset declines. This, in turn, requires approximately $3.0-3.5 billion of capital investment 'back in the Basins' every year for decades – a massive repeatable economic win in terms of jobs, revenues, and taxes for the entire country.
The win from a Canadian LNG industry is just as compelling from an environmental performance and emission reduction perspective. Each bcf/day of LNG will reduce carbon emissions by approximately 15 MT/year if utilized to replace coal in electrical generation in the landed country. That same 4 bcf/day project we were considering would reduce annual emissions from the entire Canadian oil and gas industry by a full 25 per cent. If we choose to grow our Canadian LNG business to 10 bcf/day, we're looking at an opportunity for Canada to lead the world in global emissions reduction.
And this is a true net reduction for the world. The atmosphere has no borders so replacing coal with gas in China or India is a true 60 MT/year reduction for the world. The second key consideration is that our Canadian gas industry produces on average the world's lowest-emission natural gas, and our leading clean-tech industry is allowing us to get cleaner, faster than anyone else. The gas is going to be supplied to the countries that demand it; China, India and now Europe, whether Canadian methane molecules show up or not. The global atmosphere is a net loser in that case as the gas will be sourced from producing jurisdictions with a higher emission profile.
The final goal in our hat trick is scored by the opportunity to improve First Nation prosperity. The majority of First Nations in Western Canada are very supportive of oil and gas development as it's seen as an opportunity for long-term, high-quality employment and a sustained higher standard of living. Be it Indigenous-owned service companies, a growing reclamation business sector, direct employment with producers, or equity investment in pipeline projects; the First Nations' economic opportunities are myriad if we become a major global LNG player. We need to ensure this opportunity is not lost.
So, we have the resource, the people, the technology, the infrastructure, the necessary service sector, and the political stability to execute on the tremendous opportunity that LNG presents. As energy security becomes an ever-increasing priority, our allies are now asking us to develop this world-class resource. Let's get in the game, bury our hat trick, and win it all!
Mike Rose is the founder, CEO and chairman of Tourmaline, Canada's largest gas producer.
https://calgaryherald.com/opinion/columnists/opinion-lng-is-a-hat-trick-for-canada