Prince Georgians won't be flying high after all.
The news came Monday morning in a release from the airport authority, with CEO Gordon Duke stating the authority was "both surprised and disappointed at the change in plans."

Copilot Cannabis, now known as Cloudbreak Cannabis, was slated to open a dispensary at YXS in early 2023, which would have been the first in both Canada and the world to open in an airport.

Duke tells the Prince George Post that the airport planned to announce the beginning of construction of the shop late this fall before Cloudbreak approached YXS saying they would not begin construction or sign a lease due to "changing market conditions."
The business plan of Cloudbreak was one the airport believed in, he added. Airport staff take pride in the work they do, and Duke explains that the dispensary was the latest step in the airport's mission to innovate.

The airport asked if Cloudbreak would be open to reconsidering their decision in the future, but Duke says that the company indicated that it did not intend to change its mind anytime soon.

Cloudbreak Cannabis has yet to make a public statement on their website or social media, and the organization has not yet responded to a request for comment from the Post.
"We felt like Prince George was really the serviceable market, but also small enough where it wouldn't be really overwhelming," Ritz said.
The project was not without controversy.
Both of Canada's major airlines, Air Canada and WestJet, voiced their opposition to the shop at the public hearing at city hall. They raised concerns about non-traveller customer traffic at the airport, airline personnel purchasing cannabis products, international travellers carrying cannabis, and traveller intoxication.

The Prince George RCMP also came to the meeting to express their concerns, citing security and intoxication risks.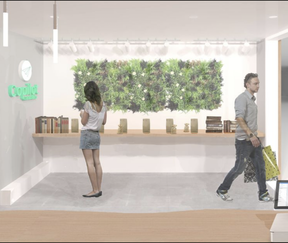 Correspondence also saw a mixed response from the public, but both Cloudbreak and YXS assured the public that rules would be put in place to minimize those concerns.
Council unanimously voted to approve the shop, saying that they only had purview over issues of land use and community safety, and that it was up to Cloudbreak and the airport to address remaining concerns.
Now that the shop won't be moving forward, Duke says that the "prime real estate for retail space" is open to other takers, and that the airport is willing to entertain any proposal that would benefit the airport and travellers.
"We would be happy to entertain any business opportunity that would be a good fit for the organization to enhance the airport experience for customers and staff," Duke said.
The local airport has a mandate to support the local economy, Duke says, and that a local or regional business would be an "excellent fit."